Residential Complex, Kyiv
Fayna Town
A complex of innovative solutions in residential property design: half-open blocks with varying amount of levels in sections, PRO-apartments, 3 km of pedestrian promenade with a bicycle ring and Smart street.
Facebook
BACK
Human

For Fayna Town residents, it's a quality living environment inside the complex, while the buffer zone around it creates favorable conditions for the surrounding neighborhoods.

Business

This is an example of how an investor or developer can make more money by building quality housing.

Urban

Implementation of the Smart street concept on Salyutna Street's section running along the complex.
Service types
Predesign
Design
Detailed design documentation
The concept of "Smart Streets"
Cullmann Workshop
Technological project
Vt. Yatsyn Technological Bureau
Acoustic solutions
Acoustic Traffic
Location
Ukraine, Kyiv, 2-B Salyutna St
Awards and recognitions
CP AWARDS 2020 - Winner in the nomination "Residential complex comfort class"
ᅠ
Baumit "Facade of the Year 2019" - Winner in the nomination "High-rise apartment building"
Ukrainian Urban Awards 2019: winner in Unbuilt cultural and social object
Eastern Europe Real Estate Project Awards - Residential complex of the year 2018
Objective:
Creating a cozy family neighborhood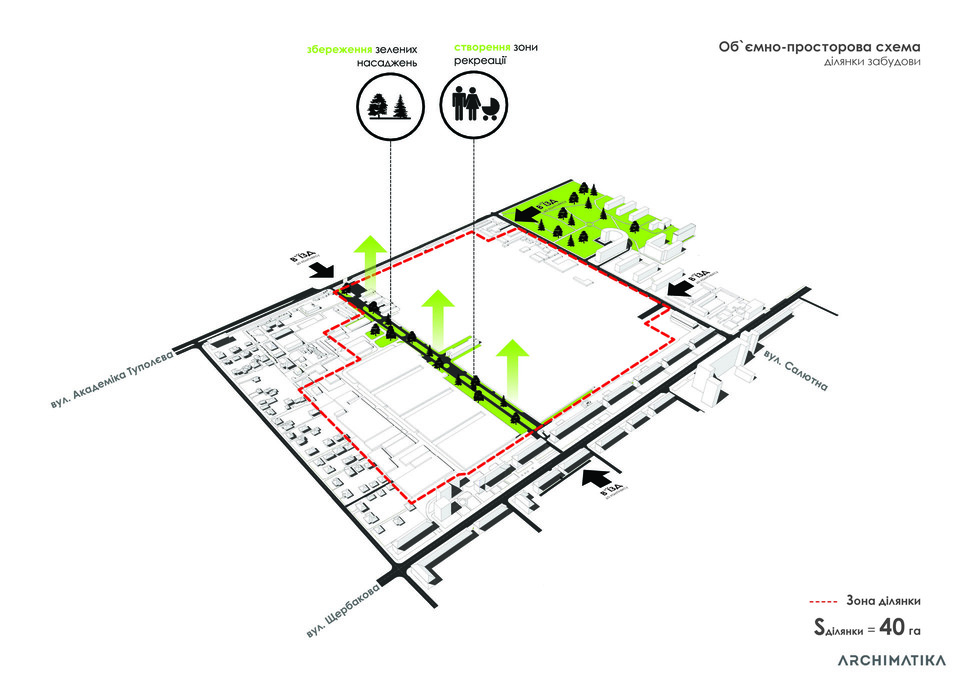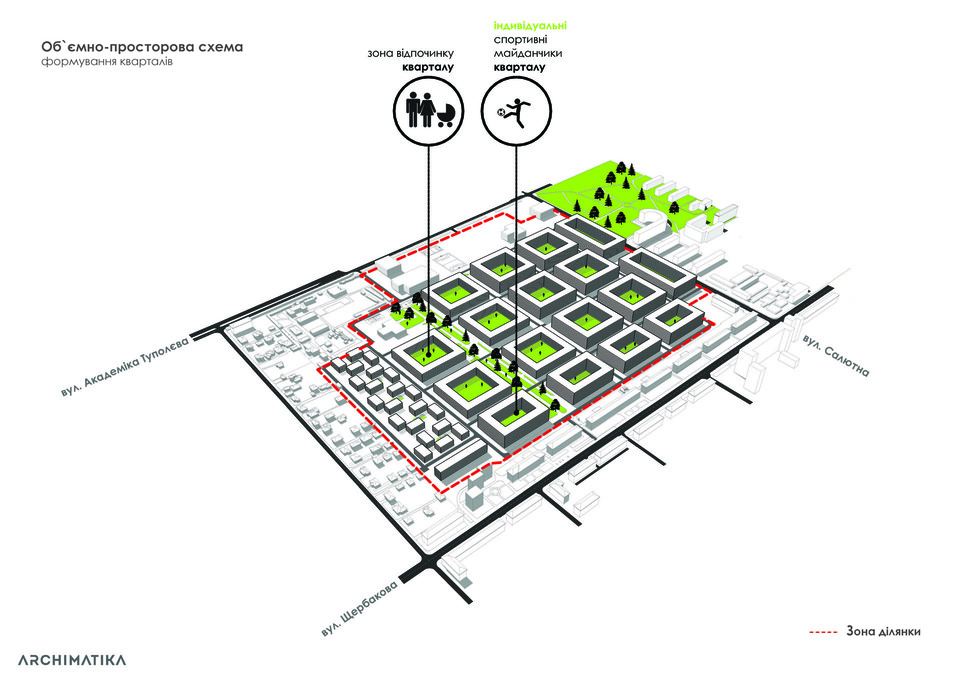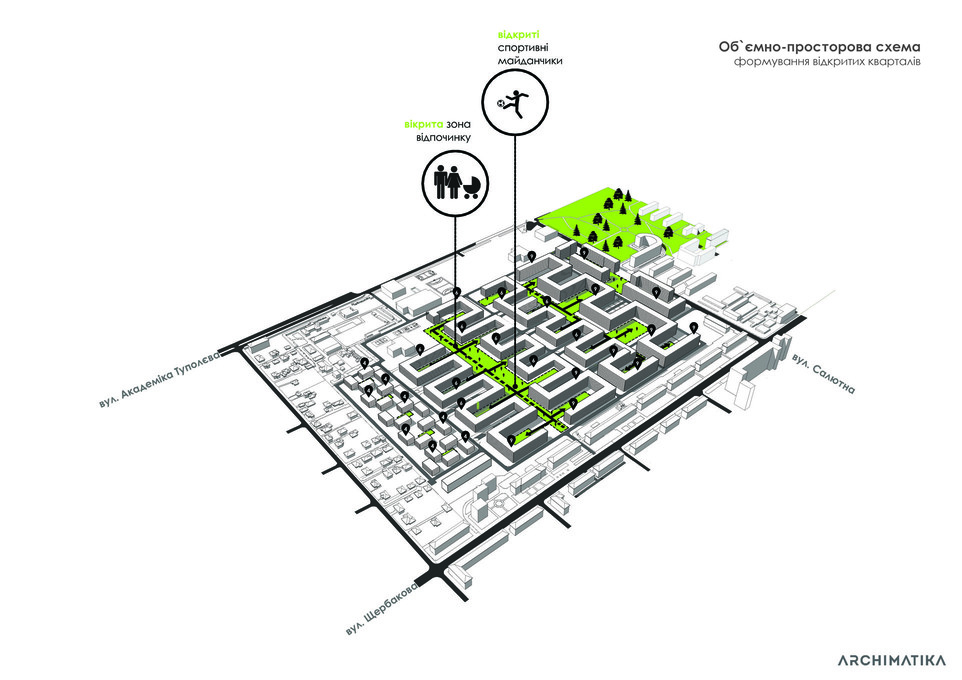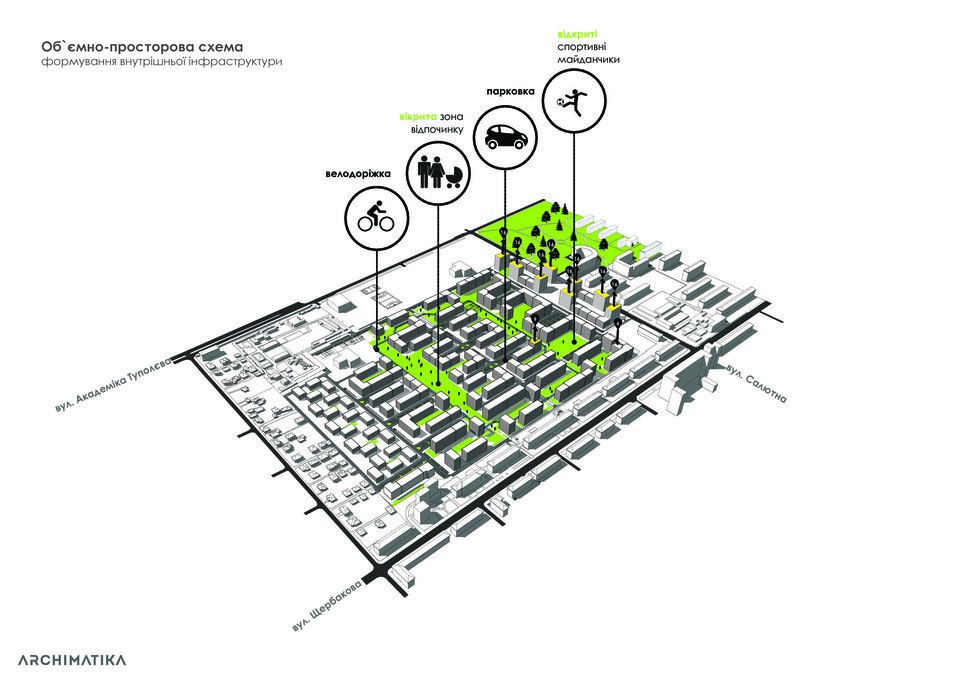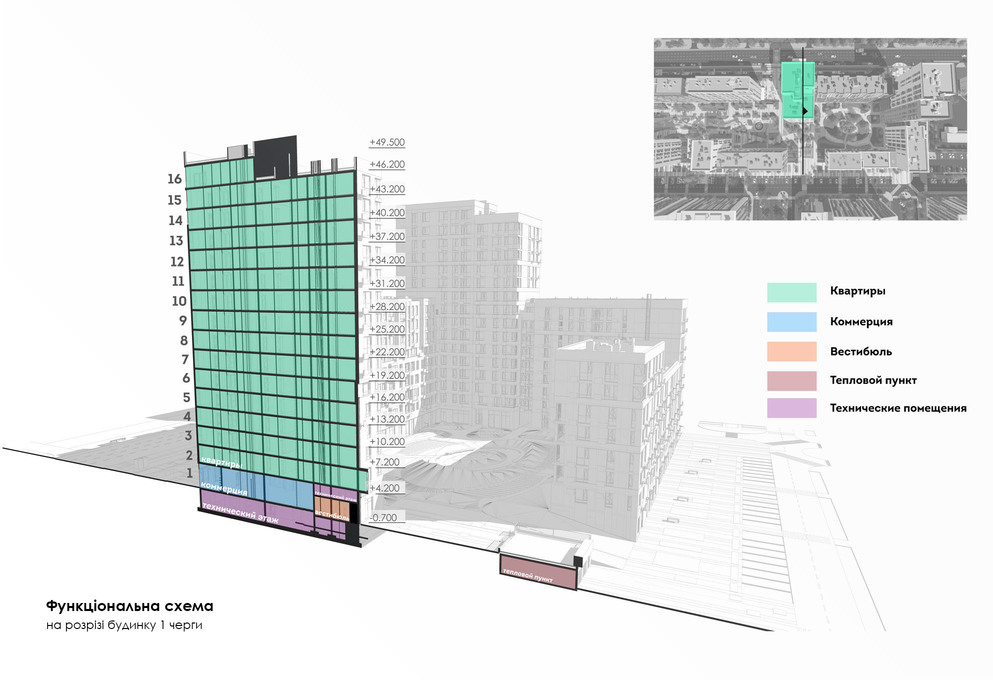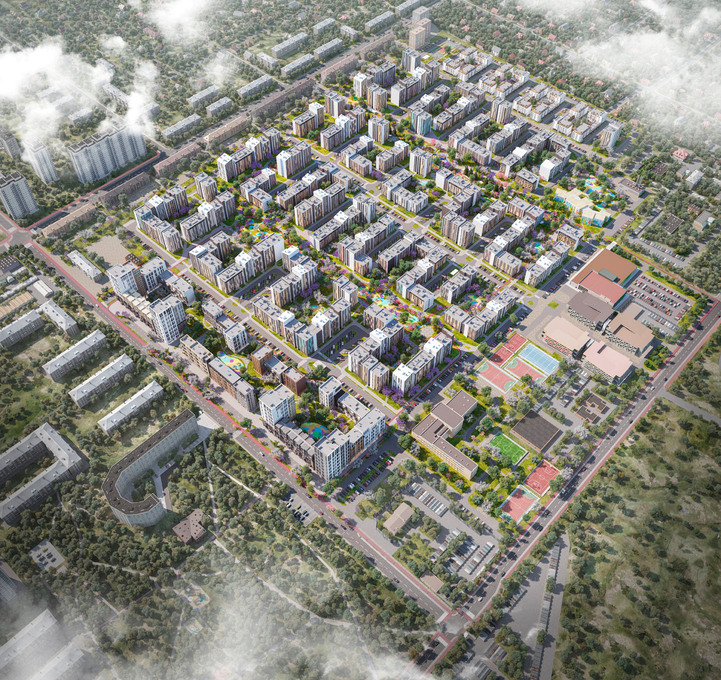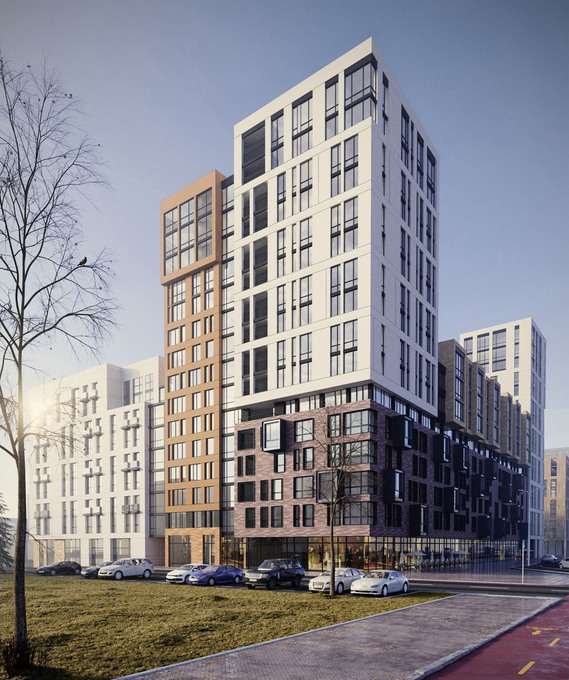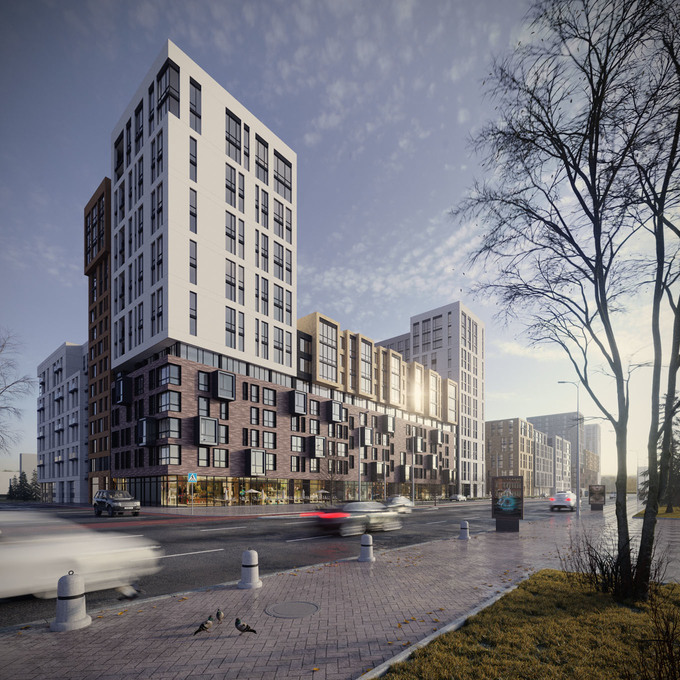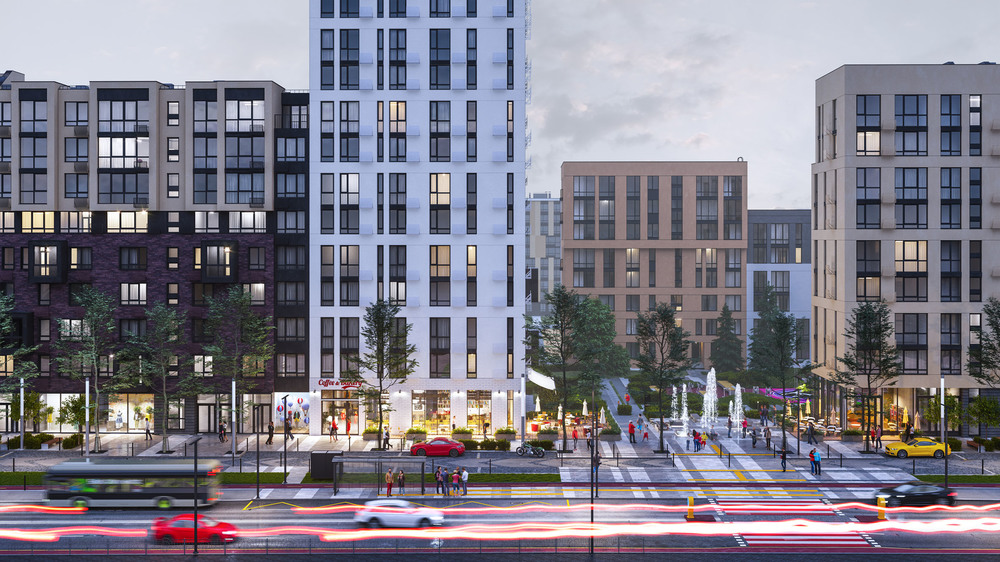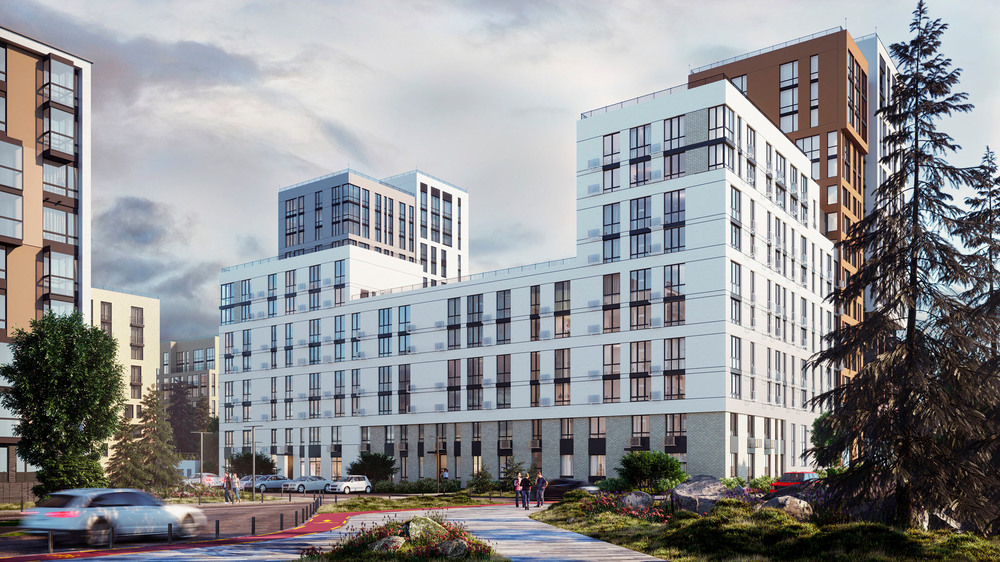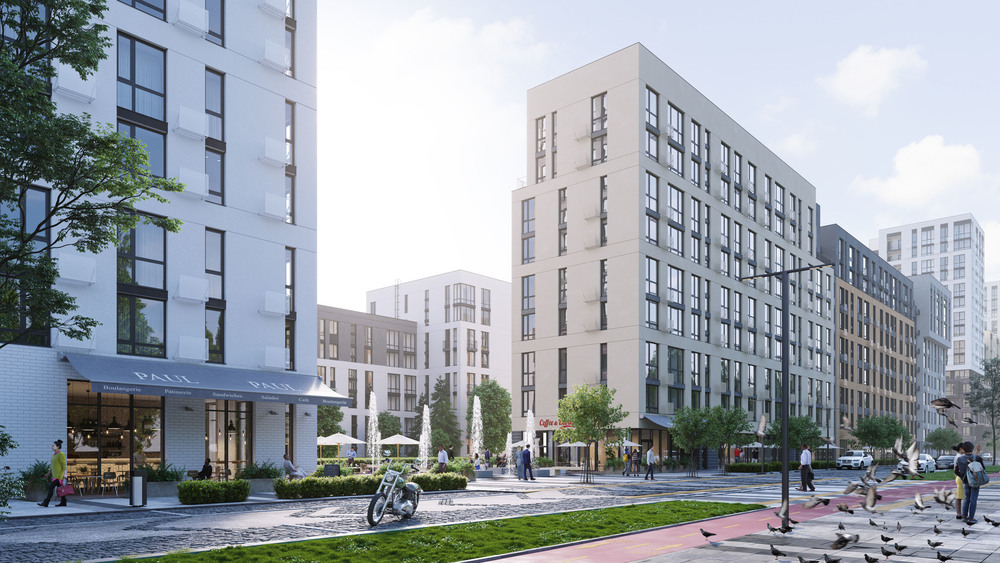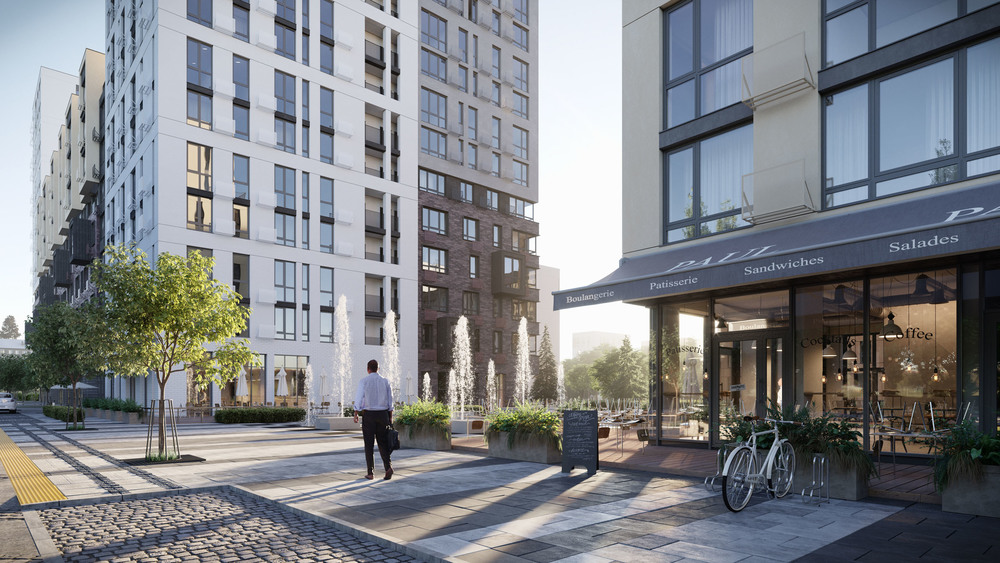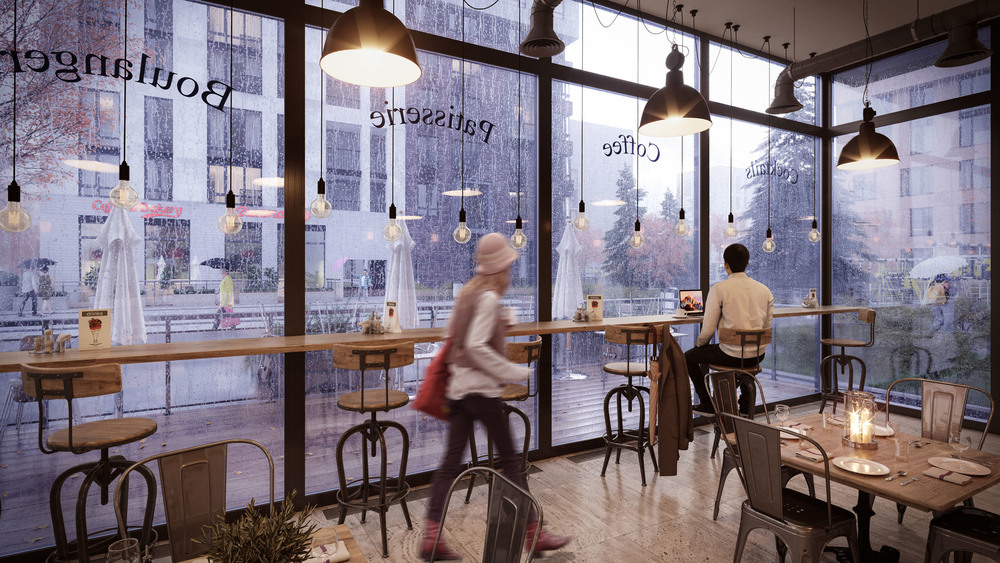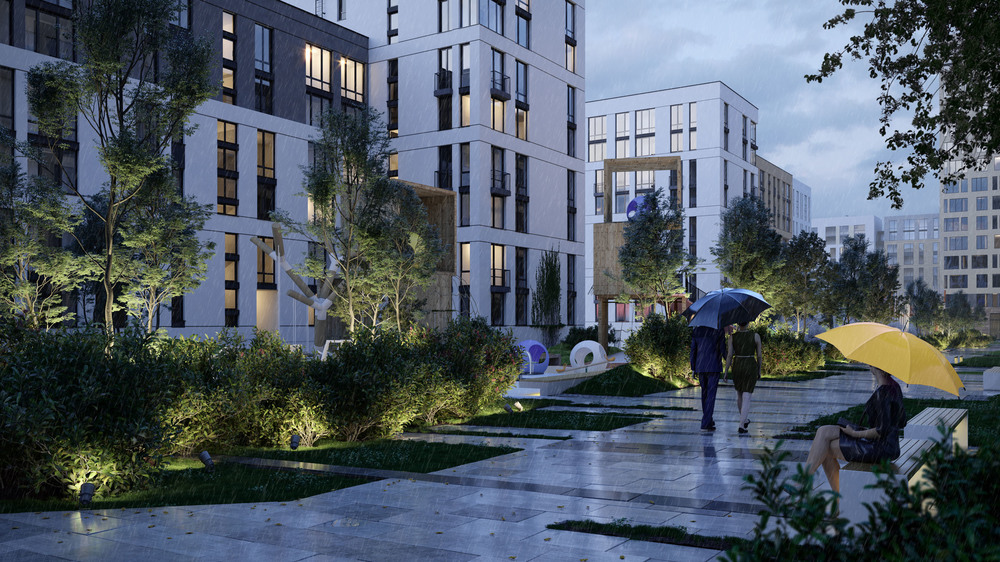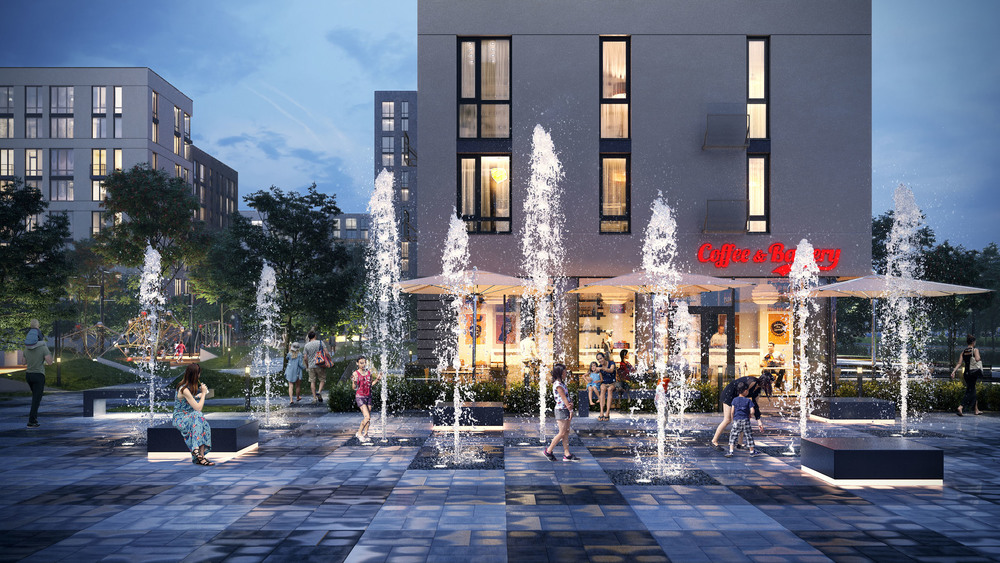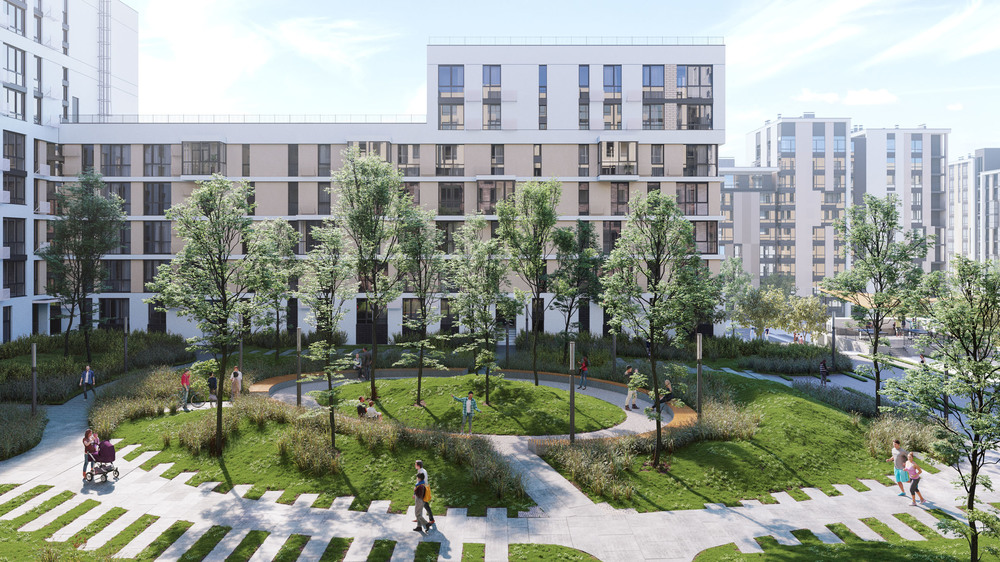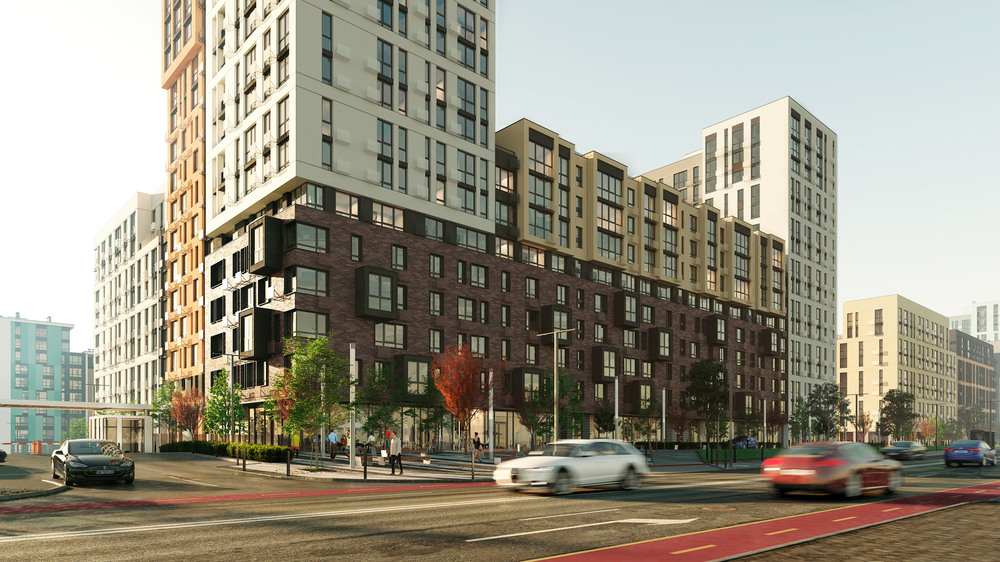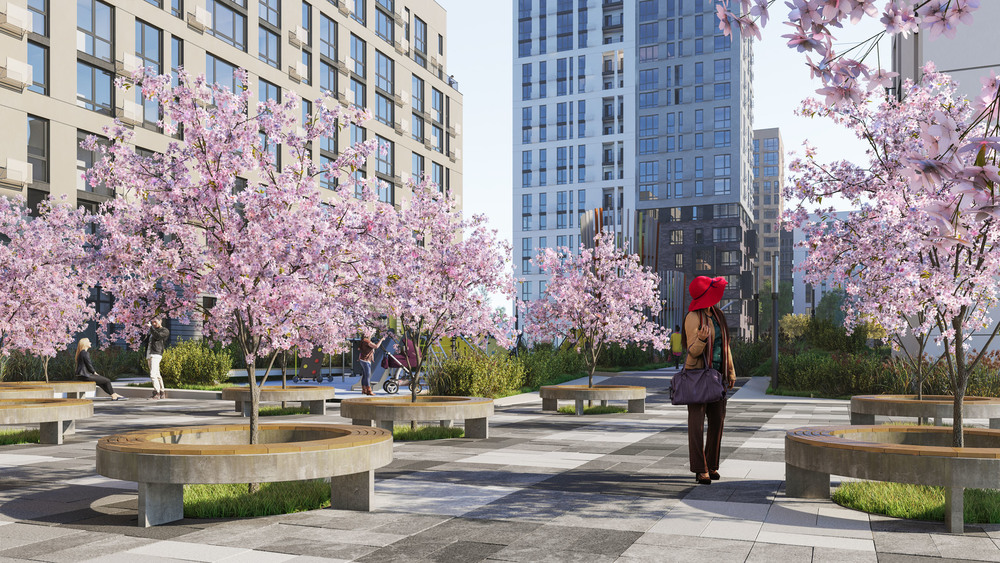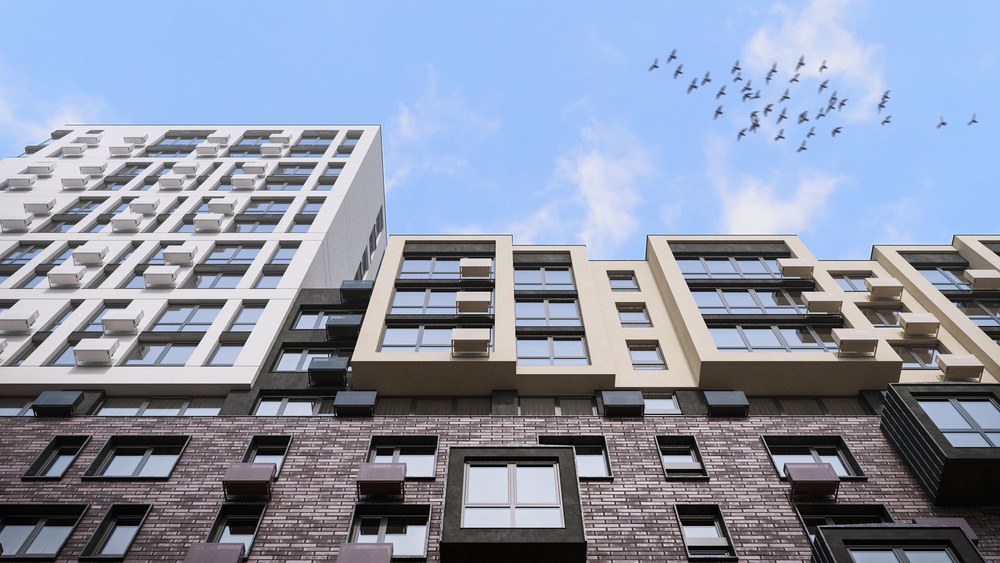 Solutions:
Our standard of PRO-apartments is maximally implemented in the layout solution
Open and half-open blocks allow to utilize all advantages of the complex, forming a private courtyard, but the opening on the complex's southern side helps avoid excessive shadowing
Different number of storeys of the complex's sections allows to create the maximum number of corner apartments for the best layout options. Unlike a regular block that has four outer corners, half-open blocks may have up to 20 corners
Unavailable to cars courtyards are joined into a single pedestrian space by a 3.5-km long promenade
Thirty 50-year-old spruces became the axis of the pedestrian alley ending the pedestrian promenade inside the complex
Pedestrian and bicycle bridges make sure that pedestrians and cyclists do not cross motor traffic inside the complex
The Salyutna Street's section running along the complex transformed into a Smart street
The complex's premise has BBQ zones for picnics
Facts and details:
3.5 km of bikeway and pedestrian promenade
420 benches per 12 ha of landscaped area
24 children's and 7 sports grounds
6 art objects and 2 fountains
9 minutes of walking to Nyvky Metro station
40 layout options for 5 buildings of the first line
Team:
A. Popov, D. Vasyliev, V. Bebeshko, A. Kishchenko, A. Cholan, O. Repura, A. Mazorchuk, D. Tantsurov, K. Dvoinenko, M. Kuzminova, M. Morozov, I. Synenko, A. Shchuka, A. Vorotilova, A. Ponomarova, D. Dikan, D. Horbatiuk, M.Dykhanovska, M. Herasymenko, O. Pokhodenko, O. Kononenko, O. Heichuk, O. Repura, O. Lymarenko, S. Khuder, T. Sanchenko, V. Synenko, Y. Lohvynenko, A. Kamenets, I. Kril, M. Riabokon, I. Abramenko, I. Tyshchenko, K. Luhanska, K. Serdiuk, S. Putanenko, A. Kornilova, H. Kulvanovska, K. Romaniv, M. Kopytko, M. Oliinyk, A. Kunitskyi, Y. Filonenko, Y.Solianyk, Y. Gosudarskiy, H. Volchanovskyi, L. Nizhynska, I. Shevchuk, L. Baranovska, O. Budanov, O. Chapkina, O. Smolina, N. Ovsiannikov, O. Kolibabchuk, O. Rozhalin, S. Kostyria, V. Shelobanova, V. Zahorodnyi, S. Los, S. Polinkevych, T. Loniuk, I. Pavliuk,T. Ahbash, A. Yakovenko, O. Havrylets, O. Kobzar, O.Trus, V. Savko, Y. Trus, Y. Barylo, I.Pohorilyi, I. Hrab, I. Stepaniuk-Mazurkevych, R. Volosheniuk, A. Rypulo, A. Dovhaniuk, Y. Khlopeniuk, O. Kondratiuk, M. Holovko, M. Naumov, H. Yarmilko, L. Selivanova, L.Vechfinska, A. Shelmenko, A. Hrechyshkina, A. Rubanenko, A. Tsukor, A. Volvach, A. Stozhok, D.Holer, D. Lykhosherstyi, D.Yaremchuk, D. Pylypenko, H. Lykhvar, I.Kuriata, I. Shcherbachenko, I. Brahinska, I. Liakhova, I. Shabrov, K. Yatsenko, L. Khariuk, L. Tyshchenko, M. Novikova, M. Borodai, N.Aleksandrova, O. Boliuk, O. Liamzina, O. Nazarenko, R. Zavalniuk, S. Zinchuk, T. Kozak, T. Shcherbachenko, T. Stadnik, V. Partyka, V. Yurchenko, V. Somushkin, Y. Lavrinchuk, V. Bykhno, Y. Chybisov